Magical Edition Crate Year 7.2
DON'T MISS OUR MAGICAL EDITION CRATE: YEAR 7.2!!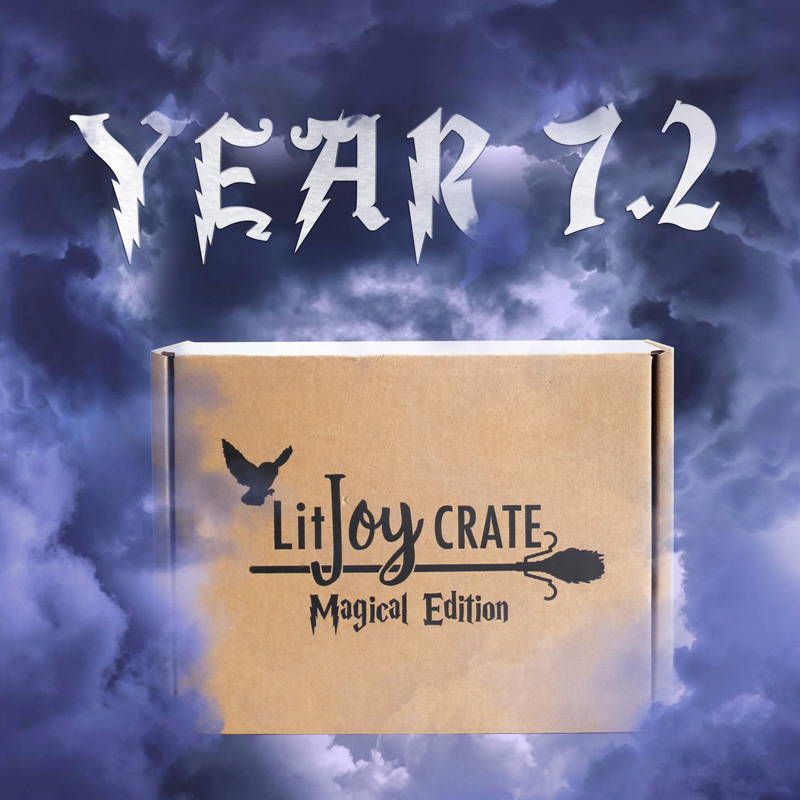 We've entered the final battle at Hogwarts, and witches and wizards are preparing to follow He Who Must Not Be Named or The Chosen One.
Now get your wands up and galleons out because the LitJoy Year 7.2 Magical Edition Crate is a box worthy of this epic finale! Friends will be remembered, love declared, spells cast, and light will triumph! We are beyond honored to offer you the final crate in an 8-crate series celebrating magical fans everywhere!

Note: The LitJoy Magical Edition Crates will continue in the fall of 2020 with new themes and a new format! More magic more often!
Customers Review Magical Edition Year 7.1!
Loved everything in the box!

Loved everything in the box! The quality was excellent as always.
This was so awesome to get under my Christmas tree, so many fun trinkets and products. I loved it all!!!
This crate was amazing! Absolutely worth the wait. I can't wait for part 2!
This crate was so well planned and each item was very unique. I loved everything that came in this crate!
I have ordered other magical crates and this one is the best one I have ordered. I love the items in the box. I am sad I didn't know about them before to start with them from the beginning. They are so great with communication to the customer. They send email updates to let you know when your item has shipped.
First Harry Potter Box; Absolutely the Best!!!!!

I received this box a bit later than some people, but this box was definitely worth the wait. It was filled with so many amazing items that were all very detailed and fun. I loved the Hermione's bag replica because it was just so authentic and awesome!!!!! I truly thought that every item in this box was well worth the wait and was perfectly themed with the book!!!!! 10/10 would buy again!
I absolutely loved everything that this box, along with all the add-ons!!! 🙂
I adored this box! The best present for myself and my HP collection!
Everything in this box completely blew me away!! I loved every item!
After looking forward to this for months, the magical crate did not disappoint! The products were well thought out and beautiful!
What is the Magical Edition Crate? FAQs
~ This crate is SOLD OUT ~
What is the Magical Edition Crate?
This crate is a special edition one-time crate, exclusively from LitJoy Crate. It is NOT a subscription crate and must be purchased separately from our subscription crates. Once it is sold out, it will not be re-stocked.

When will the Year 7, Part 2 Crate ship?
The Year 7, Part 2 Crate is tentatively scheduled to ship at the end of July. This date can shift earlier or later as our Magical suppliers work hard to conjure products most magnificent and deliver them to LitJoy headquarters. As the date draws closer we will announce a more firm shipping schedule. Make sure to follow along with our shipping news feed: litjoycrate.com/blogs/shipping-updates

Will there be Add-on options for the Year 7, Part 2 Crate?
Yes! We will have many items available as Add-Ons, both OLD FAVORITES and NEW ORIGINAL ITEMS, to add to your Year 7, Part 2 Crate! This means that you can purchase extra Magical Goodies and you pay NO ADDITIONAL SHIPPING FEE.

Year 7 Add-Ons can be purchased two ways:
1) You can add them to the cart with your crate and check out all at once, or2) You can purchase the Year 7, Part 2 Crate first and then purchase the add-ons separately afterward.Add-on sales will open May 13th with Lunacorn Pre-Sales. They will remain open for one week unless they sell out. To purchase Add-ons, you MUST CREATE A LITJOY ACCOUNT at checkout! This informs our house elves that you have purchased a Year 7, Part 2 Crate and we can offer you free shipping on Add-ons! Add-Ons WILL SELL OUT, so make sure to check out our sneak peeks and plan your wizards gold budget accordingly.

How will my add-ons be shipped?
You can expect your add-ons to ship in a separate package from your Year 7.2 crate. Add-Ons will this in July and August. As the date draws closer we will announce a more firm shipping schedule. Make sure to follow along with our shipping news feed: litjoycrate.com/blogs/shipping-updates

Magical Edition VIP Pro Tip!
Create a LitJoy account ahead of time to speed up the checkout process in our shop! You don't even need to buy anything. Just be sure to remember your username and password for later! When sales open for Year 7, Part 2, be signed in to your account.

How much does the Year 7.2 Crate Cost?
This Magical Edition Crate will cost $85 + shipping. LitJoy also now offers payment plans using Klarna. You can check your international shipping prices for Magical Crate here.

Will my country charge me taxes upon delivery?
All international packages are shipped Delivered Duty Unpaid (DDU), which means LitJoy does not collect VAT, duties and/or taxes charges at the time of purchase. Every country determines the taxes differently. We suggest contacting your customs office to determine how much this might be.

How many items are in the 7.2 Crate?
You can expect 12-15 items in your crate. One thing we can promise is that our Magical Edition Crates are always backed to the brim!

What is the retail value of the 7.2 crate?
Our 7.2 Magical Edition Crate will be sold for $85, however the value of all the items sold individually is over $200.00!

Can I buy more than one crate?
Yes! There is no limit on the amount of Magical Edition Crates you can purchase.

Can I use my LitJoy Rewards points to purchase the 7.2 Crate?
Absolutely! In fact, many LitJoy shoppers save up their reward points for this very special product! You can learn more about our Rewards Program here: litjoycrate.com/rewards

Can I stack my coupon codes or have them apply toward my shipping cost?
Only one coupon code per order and the coupon code is applied toward the total cost of the product, not the shipping cost. Any unused value on a coupon code does not go back into your reward points.

Can I use Klarna to pay for the 7.2 Crate?
Yes! You can pay with Klarna and have your payments split up into 4 equal, interest-free installments. Klarna works on any purchase of more than $35 in our store except for monthly crate subscriptions.

Will there be scented items in the 7.2 Crate?
There will be a scented candle.

How do I become a Lunacorn and get FIRST ACCESS TO THE CRATE AND ADD-ONS!?
(hint!)Anyone can join the Lunacorns! And there are awesome benefits like early access to exclusive products. There is a membership "fee" of $10/month, which you immediately get in the form of 100 rewards points added to your account. For more information about the Lunacorns check out LitJoycrate.com/lunacorns

Can I buy past Magical Editions, like Year 5 or 6?
No. All of our past Magical Crates are sold out and will not be re-stocked. Some individual items from past crates may be found for purchase in our Magical Collection Shop.

Are all Magical items eligible as an Add-On?
No. Only specific items, both OLD FAVORITES and NEW ORIGINAL ITEMS are available as Magical Add-Ons

What does it mean to be Magical VIP?
Subscribing to the Magical Edition VIP list means you have 24-hour early access to buy the Magical Edition Year 7, Part 2 Crate. We have ordered a set number of crates that we will make available to Lunacorns first, then to VIPs, and then the general public. After that, we will absolutely have to close sales. This set number was calculated based on the number of VIPs, purchasing quantities from past crates, and the effects of COVID-19. While in the past we have guaranteed a crate to all VIPs, with the current economic climate we have to protect LitJoy with set crate quantities. Thank you for understanding!